Data Mining
Data mining is the process of finding anomalies, patterns and correlations within large data sets to predict outcomes. Using a broad range of techniques, you can use this information to increase revenues, cut costs, improve customer relationships, reduce risks and more.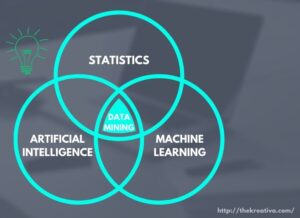 Why is data mining important?
So why is data mining important? You've seen the staggering numbers – the volume of data produced is doubling every two years. Unstructured data alone makes up 90 percent of the digital universe. But more information does not necessarily mean more knowledge.
Data mining allows you to:
Sift through all the chaotic and repetitive noise in your data.
Understand what is relevant and then make good use of that information to assess likely outcomes.
Accelerate the pace of making informed decisions.
Data mining is a cornerstone of analytics, helping you develop the models that can uncover connections within millions or billions of records
Who's using it?
Data mining is at the heart of analytics efforts across a variety of industries and disciplines.
Communications: In an overloaded market where competition is tight, the answers are often within your consumer data. Multimedia and telecommunications companies can use analytic models to make sense of mountains of customers data, helping them predict customer behavior and offer highly targeted and relevant campaigns.
Education: With unified, data-driven views of student progress, educators can predict student performance before they set foot in the classroom – and develop intervention strategies to keep them on course. Data mining helps educators access student data, predict achievement levels and pinpoint students or groups of students in need of extra attention.
Retail: Large customer databases hold hidden customer insight that can help you improve relationships, optimize marketing campaigns and forecast sales. Through more accurate data models, retail companies can offer more targeted campaigns – and find the offer that makes the biggest impact on the customer.
Learn more about industries, your consumers using this technology, come to us, we can help you.