Guanajuato and Hispanic Commerce
In case you missed it, here's a link to last Friday's Facebook Live forum "Guanajuato and Hispanic Commerce" where our CEO John Trainor was invited.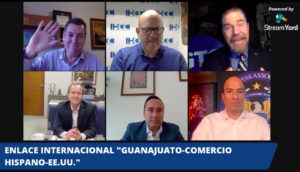 The forum proposed the reinvention of commerce and how to do business through the Internet, take advantage of new markets in the United States, target marketplaces and the support that Guanajuato Government has through COFOCE to accompany companies to transform their business model into the digital world.
At Kreativa we have digital marketing consulting appropriate to your business model, whether it is the launch or growth of a digital sales channel, whether it is your own store or marketplace, including social networks, media buying, search engine optimization, programming, etc.
---
En caso de que te lo hayas perdido, aquí hay un enlace al foro de Facebook Live del viernes pasado "Guanajuato y el comercio hispano" donde nuestro CEO John Trainor fue invitado.
El foro propuso la reinvención del comercio y cómo comenzar a hacer negocios a través de Internet, aprovechar los nuevos mercados en los Estados Unidos, establecer mercados objetivos y los apoyos que el Gobierno de Guanajuato tiene a través de COFOCE para acompañar a las empresas a transformar su modelo de negocio en el mundo digital.
En Kreativa contamos con consultoría de marketing digital adecuada a tu modelo de negocio ya sea de lanzamiento o crecimiento de un canal de venta digital ya sea tienda propia o marketplace incluyendo redes sociales, compra de medios, optimización de motores de búsqueda, programática, etc.
https://www.facebook.com/MigranteGto/videos/3157093881049918/